Reef fishing, deep sea fishing, bone fishing, & spearfishing, as well as scuba, snorkeling, sightseeing, and beach combing excursions for the Eleuthera, Bahamas area. More info below.
Spearfishing Eleuthera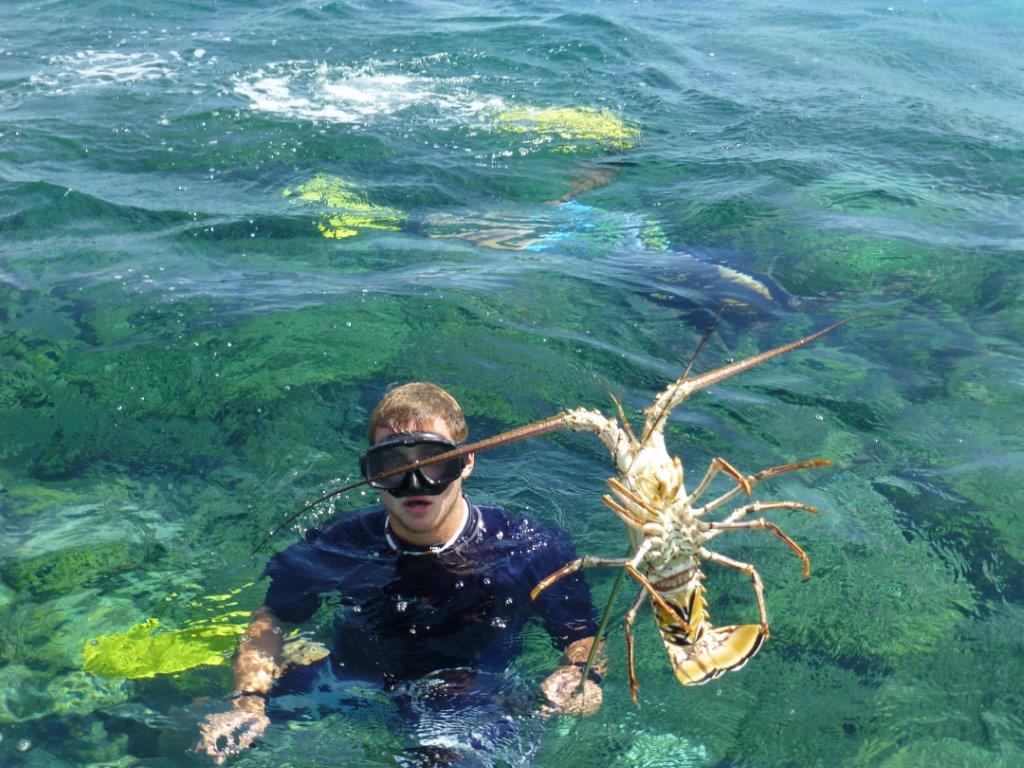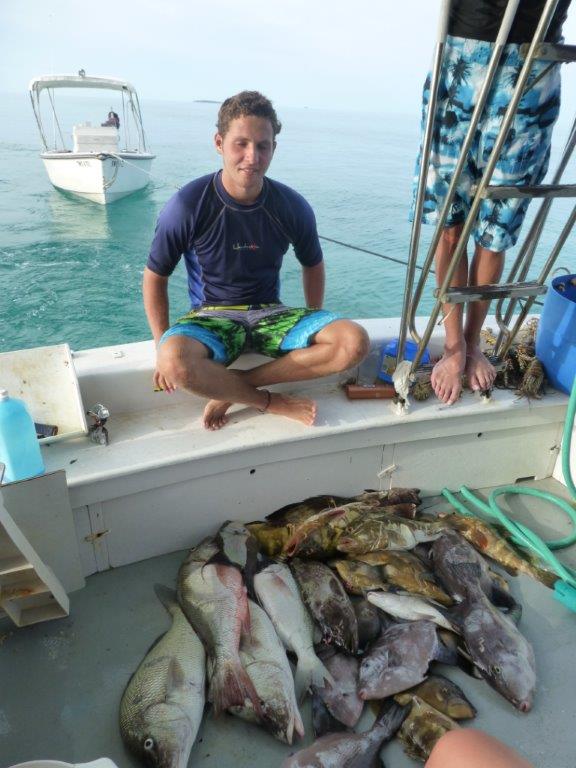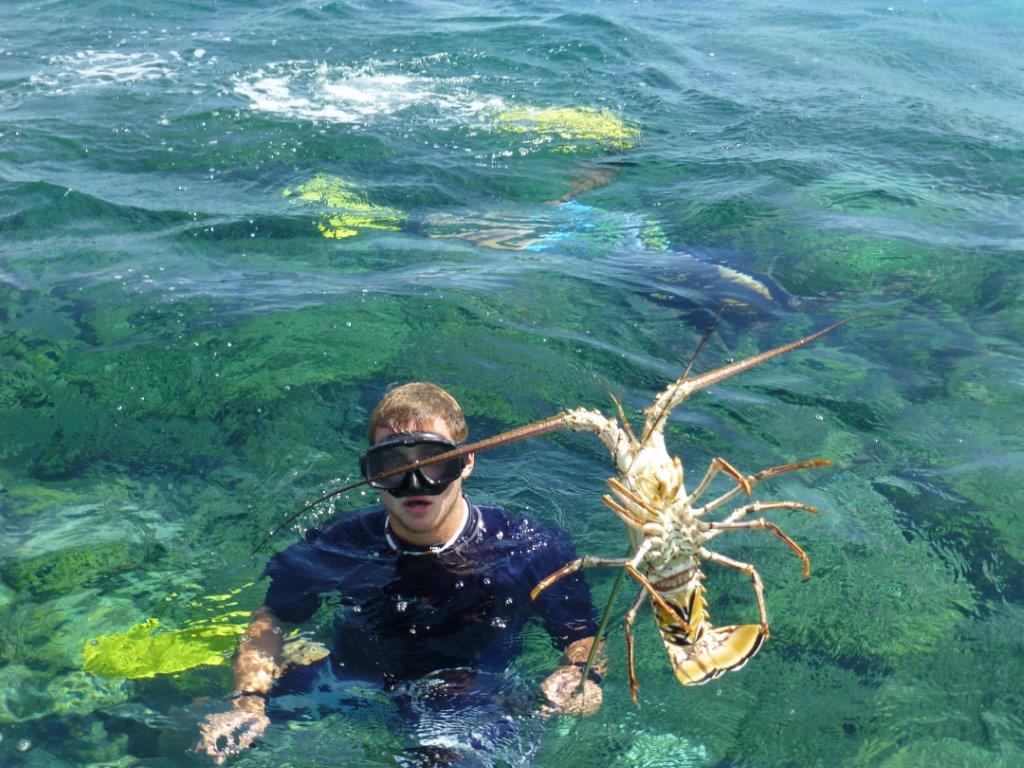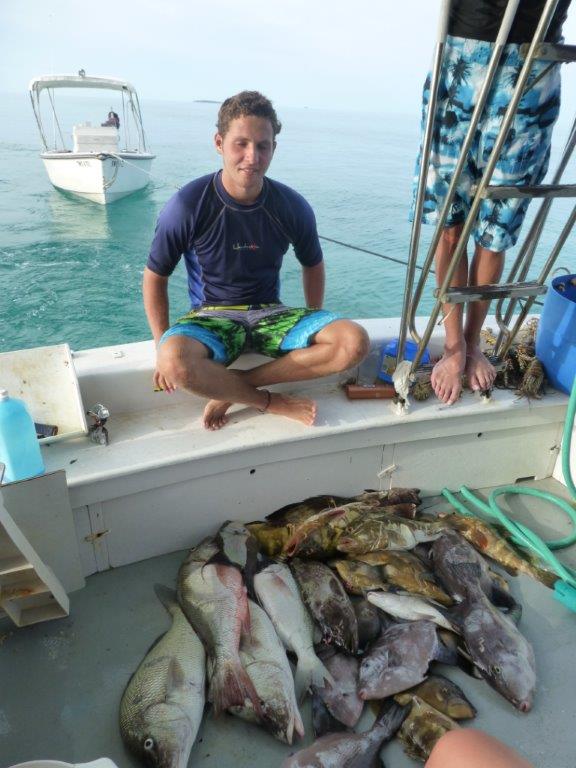 Spearfishing Eleuthera
Spearfishing in Eleuthera and Harbour Island is an adventure that gives you an entirely different experience from other types of fishing. While wading or diving you'll use a Hawaiian sling and spear to strike the fish. Spearfishing requires stealth and patience, but it is an incredibly rewarding experience. You get to free dive in depths from 10 to 50 feet and experience the beauty, while remaining on the lookout for your catch. Then in an instant you can snag a fish and the beauty of diving is combined with the thrill of fishing.
You can also catch more than just fish when spearfishing in Eleuthera and Harbour Island. Lobsters are in abundance as Spanish Wells is the lobster capital of The Bahamas. The lobster processing plant in Spanish Wells, Ronald's Seafood, is even the main supplier of rock lobster for Red Lobster in the US.
What you can expect to catch includes:
lobster
conch
hogfish
snapper
jacks
grouper
margate
Hawaiian slings are provided, as is cleaning your catch.
Call,Text, or Email for Pricing
Business (242) 333-4721
Cell (242) 359-7894
Email- RNeilly@gmail.com
Packages can be customized, and our prices won't be beat!
Additional Spanish Wells Fishing Information:
We cater to your schedule with full day or half day charters. We provide rods and reels, bait, ice, water and sodas, and a cooler big enough for whatever else you'd like to bring. We can even make you lunch or stop off at a great restaurant during your charter depending on the activity you choose! We offer extremely customizable packages so that you can do everything you'd like in one day including fishing, snorkeling, and beach-combing. If you'd like to do multiple activities in one trip, just contact us and would be happy to work with you to ensure you get to do exactly what you want!
If you have your own equipment feel free to bring it, however we do suggest consulting with Capt. Ryan before you arrive on the island to ensure your gear will serve you well.
Full day charters leave in the morning and return in the evening. Half day charters run morning to afternoon or afternoon to evening. Capt. Ryan will be able to give you a better time approximation when you call to make your reservation, and each charter can be built to make sure you leave at the best possible time for your specific needs
The main pick ups for charters are at Spanish Wells, Three Islands Ferry Dock, Jeans Bay Ferry Dock, and Harbour Island. Contact Capt. Ryan with any questions, and to learn more about how he'll give you the best charter trip at a price that can't be beat!